---
New Jazz Standards, a new book of over 300 original tunes by Carl Saunders, is available here in four keys–Concert, Eb, Bb, and bass clef.

Buy one for $65, two for $120, three for $155, or four for $200.
Also available are the first two CD's of New Jazz Standards, recorded by Sam Most on flute (Volume 1) and Scott Whitfield (Volume 2) on trombone.
Free shipping to the United States. Ask about shipping outside the US.
---
Carl Saunders, jazz artist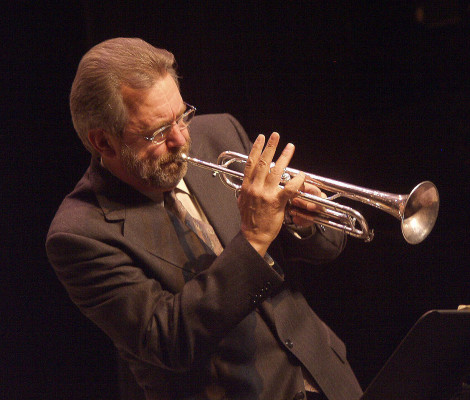 Carl Saunders has lived and worked in relative obscurity for many years. Trumpet players knew of him for his ability to make the seemingly impossible be not only possible, but easy and musical.
Yet, whenever he plays in concert, whether with his group or another, Carl invariably receives standing ovations from an appreciative audience. Yes, even those who can't play the trumpet are moved by Carl's ability to get inside a song and make it sing in ways it never has before.
Before his first CD release under his own name in 1996 ("Out Of The Blue", SNL Records), Carl's recordings were as a sideman for the bands of Stan Kenton, Bill Holman, Bob Florence, and others. This site is dedicated to the growing number of recordings with Carl as a leader. Inside you will find information on all of Carl's current recordings, including sound clips and information on how to purchase them.
CarlSaunders.com is also your source for current information about Carl's upcoming appearances and projects. You can also ask Carl questions, if you like–or just read what he had to say about questions from others.
Carl Saunders is finally beginning to receive the recognition and exposure he deserves. For that we thank all of his fans–for supporting the music and for spreading the word. Welcome to CarlSaunders.com, the place to come for all things Carl.
Now go explore . . .